Many people used to think about Metro stations as being grimy, dark, occasionally unsafe, and generally not a spot you would want to hang out. But the reality is the opposite. These public transportation stations are secure and beautifully constructed, with breathtaking murals and impressive light displays. In places like these, visiting a metro station can be like going to an art museum, some of which are very interesting, and you do not feel bored. Here, I've picked ten of the best metro stations from around the globe. Some are now so recognizable that they even serve as a city's emblem.
1. Toledo Metro Station-Naples, Italy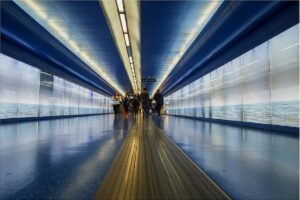 One of the most significant metro stations in Toledo in Italy opened in 2012 and has mosaics by artist William Kentridge and an LED wall-mounted seascape. As passengers ride down the escalators, thousands of Bisazza tiles change from light to dark blue. Passengers will find it difficult to believe their eyes as they explore this station and take in the unusual effects of light and color. Ponte Pasquale Rotella in Salerno, Italy, was renovated in 2011 by the architect Renzo Piano and reopened two years later. The station has black marble walls that absorb the sunlight that passes through a skylight and is reflected on four interconnecting glass surfaces making it seem as if they are pieces of mirrors.
2. T-Centralen Station, Stockholm, Sweden
Nearly every station in Stockholm resembles an art gallery or museum, making it the world's most extensive underground gallery. Many people miss their trains while admiring these works of art because they are so breathtaking. The T-Centralen station, where the three stations converge, is the highlight of this underground network. Whatever station you head to here, they are all beautiful. You will find an entirely new world of underground art by spending the whole day riding the metro.
3. Formosa Boulevard Station, Taiwan
This station, also known as the "dome of light," is exceptionally outstanding and regarded as the world's largest glasswork. Narcissus Quaglianta, an Italian artist, spent more than four years creating it. In this piece of art, the message stands for love and tolerance, and the design relates to the story of human life. The themes are earth, water, fire, and light. 
4. Riyadh Metro, Saudi Arabia
With its gold-plated walls, enormous marble walkways, and space-age structures, the Riyadh metro is considered one of the most stunning metro stations in the whole world. Zaha Hadid, one of the most distinguished architectural figures, is in charge of this station's design. This metro is entirely air-conditioned. The building's overall design, including raised elevators and other exquisite finishes, is intended to resemble the country's dunes. 
5. Avtovo Station, Saint Petersburg, Russia
The Avtovo station, which is underground, has an exterior that resembles a small museum and a breathtaking interior. The white marble walls and domed roof give the impression that you are in a luxurious ballroom rather than a metro station. In contrast to the typically harsh underground lighting, chandeliers hang from the ceiling and offer soft lighting. 
6. Khalid Bin Waleed Metro Station, Dubai
Regardless of being a metro station, you can experience the historical center of Dubai there. This station's theme is water, representing Dubai's pearl diving and fishing heritage. From the ceilings, fiber optic chandeliers hang, giving them a fantastic jellyfish appearance. The three floors station is immaculate and luxurious, just like the rest of the city. 
7. Union Station, Washington, D.C.
This gem stands out from the rest of America's valuable subway stations and is quite beautiful. Thanks to the series of cathedral ceilings with vaulted beams, coffered blocks, and elegant lighting, that gives a serene atmosphere. Keep an eye out for the platform's lights as they start to pound whenever a train approaches. This unusual station in America more closely resembles a church than a train station. Remember, there is no eating allowed here, just like in church.
8. University Station, Italy
Bright pink and yellow paint covers the curved walls, and rainbow-colored tiles cover the floors. The architecture draws on many academics who pass through this station to create a place where people could learn while waiting for a train. Even the seating plan in this place is unique. This large number of highlights makes it one of gorgeous metro stations in the world.
9. Komsomolskaya Station, Moscow 
Its marble pillars and mosaics first opened in 1952 and continue to be stunning. There are hanging chandeliers illuminate and draw attention to this large metro station. This metro station's high ceilings give off the impression of being in a museum. For their exceptional work, the artists and architecture received the Stalin Prize. 
10. Moyua Square Station, Spain
Due to its distinctive design, this metro station is famous worldwide. The metro system's designers created a layout that encourages commuters to walk in the right direction without depending on signage and works beautifully by utilizing natural light and spontaneous space. As you proceed along the routes, you will feel as if you are walking through a cave.