You have a great product, and you know it, but how to make other people know how great it is too? Marketing is the only effective way to get more people to buy your product. Regardless of numerous competitors, good marketing skills will get you far. Don't try to do everything on your own though. Hire a professional to help you if you're not willing to learn a lot about marketing. For now, you could use these 7 most important marketing tips for promoting a product online:
1. Have a great website.
The most important part of having a good marketing strategy is having a great website. This is where your clients will learn about you and buy from you, so start with making sure that your website looks good. It should have a lot of visual content such as videos, photos, and infographics. Most importantly, it should be easy to use, and buying from you should be as effortless as possible for your customers. Make sure that your customers see that your website is easy to navigate and help them find what they need as quickly as possible.
2. Optimize your website and content for search engines.
SEO or Search Engine Optimization is a big part of reaching your customers. Use SEO to make sure that your website is easy to find, and if you do it right you might even show up as the first result on Google when people search for something related to your business. There's a lot that needs to be done for your website to be optimized for search engines, so let's mention only a few things. You should identify your target audience by using Google Analytics which will help you optimize your website. Make sure that the content is consistent, relevant, and of top quality. Use keywords and build relevant links. Learn more about SEO to make sure that you do everything it takes to get your website to show up as one of the first results for your keywords.
3. Use content marketing.
Use content to inform and educate your customers about the products that you're selling. People aren't going to buy something that they don't understand and know nothing about. So, create blog posts, social media posts, ad content, e-books, and any other type of content that could help you reach more customers. Research your audience before deciding which topics should be written about.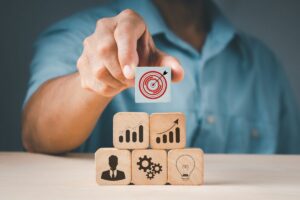 4. Post on social media.
A lot of marketing tips for promoting a product online include social media, especially Facebook. There's a huge number of potential customers on Facebook, so post about your product to reach them. Create great hashtags that will make it easier for more people to learn about your product. Make sure to add visual content and take advantage of giveaways, polls, and contests. You can also use social media advertising, but more on that later. For now, just keep in mind that maintaining an online presence on social media is an important part of promoting your product.
5. Use email marketing.
You can reach a lot of new customers through email marketing, as well as maintain relationships with your existing customers. Make sure that you always personalize the email, consider the timing, and do A/B testing. Send important company updates, inform customers about items left in their shopping cart, request reviews, and send exclusive offers, promotional deals, and exclusive discounts. If you use email marketing along with social media and content marketing, you are likely to get the desired results.
6. Use Facebook ads.
One of the most important marketing tips for promoting a product online is to use Facebook ads. When you consider how many people use Facebook, it's only natural to see it as one of the easy ways to reach more customers. Consider the reason behind your ad and its objectives before creating a Facebook ads campaign. Don't forget that you can always get the help of experienced digital marketers to create and run the campaign for you if you don't want to learn more about marketing.
7. Use Google ads.
Don't forget about Google ads too! They are PPC or pay-per-click ads that you only get charged for when a person clicks on your ad, so you're only paying for advertising when a person expresses interest in your product. Using Google ads is faster and easier than SEO, and you will be able to monitor your progress and see what works and what doesn't. It will bring more traffic to your website and provide you with more leads.