Are you passionate about your hobbies? Having a small space in your home where you'll practice your hobby is a great way to enjoy the experience more, and it also looks great! It says something about you to your guest and at the same time gives you room for enjoying your alone time. Whether you'd like a place where you can exercise, paint, read or meditate, use these 7 ways to dedicate space to your hobbies in your home:
1. Think about your passions.
Take some time to think about your passions before you get started with the ways to dedicate space to your hobbies in your home. If you have a lot of hobbies, your place will look cluttered, so pick only one or two hobbies that you'll have the space for. For instance, you could have a space for painting on the balcony, while you'll create a reading nook in the living room. There are some hobbies that you can also incorporate into your design that don't require so much space. For instance, you could have a wine rack and showcase your favorite wine if you're into wines, or you could have a spice rack if you're into cooking. While you don't want to have too many hobby spaces in your home, there are some that you can always add since they don't require a lot of space.
2. Find the space.
Finding the space for your hobbies can be a challenge if you don't have a spare room ready to be transformed into a hobby room. Consider whether there are some rooms in your home that you don't really use that much. For instance, maybe you always eat in the kitchen instead of in the dining room so you could turn the dining room into a space for writing and reading. Make sure to pay attention to all the corners too, not just the rooms. Maybe there's a space near your bookshelf for a nice little reading nook that requires only light and a comfy chair.
3. Consider what you'll need.
What will you need to practice your hobby with ease? For instance, you would need just a yoga mat and some incense sticks for a meditation room, while you would need a mirror and a lot of space or a dance zone. Consider the fundamentals first. For instance, if your hobby is playing an instrument, find a place for the instrument before adding anything else.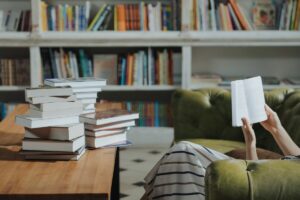 4. Display your tools.
One of the ways to dedicate space to your hobbies in your home is to remember that you're not going to need a lot of storage. The tools that you'll need to use can serve as decorations, and you'll be more likely to use them if they're already displayed. If you hide them away, you aren't going to remember to use them as much as you will if everything is there ready for you. Plus, most tools for hobbies look great anyway, so they're a decoration on their own. While mess is usually bad, a creative mess can look great.
5. Maximize the space.
The space that you'll find in your home that you could dedicate to your hobby probably isn't going to be large. So, find ways to maximize the space and use every available corner. One of the ways to dedicate space to your hobbies in your home is to truly have an area in your house especially for practicing your craft. Just like the kitchen is for cooking, your hobby space should be used only for that hobby. Don't forget about the lights and ventilation since you should feel relaxed in this space.
6. Display your creations.
If your hobby involves creating something, don't forget to showcase your work throughout your home! It will remind you of what you love doing and inspire you to do it more often. Maybe you can't dedicate an entire space to your hobby, but you can surely incorporate it into the existing décor. For instance, do some amazing landscaping in front of your home if you're into gardening. Hang your artwork on the walls or decorate with the pottery that you make.
7. Showcase your rewards.
Do you have any rewards, certificates, or trophies too? Make sure to showcase those too if you have them. If your hobby is competitive sports, find a place in your home where you could display your trophies. Let your rewards always remind you of your hobby and your achievements. They'll inspire you to keep pursuing your passion and they don't require a lot of space.