Your free time is a reward for all that time that you've spent being busy! So, make sure that you use it in a fun way that's also productive and helps you learn new things. Here are 12 fun ways to spend your free time:
1. Read a book.
Reading might not be your idea of fun, but it can be incredibly entertaining to get lost in the world of a book. It doesn't cost anything, you don't need any company to do it, and it will expand your horizons as well as your vocabulary.
2. Write.
You can write anything you want and use it as one of the fun ways to spend your free time. Write in a journal, write poetry, a memoir, a story, or your thoughts on the event that happened. Writing on a regular basis helps you improve your writing skills, and these can come in useful in all areas of your life.
3. Paint or draw.
If you frequently have free time that you don't know what to do with, why not have a craft table set up somewhere in your home? Place canvases, brushes, and sketchbook supplies there, and they'll be waiting for you to start painting and drawing whenever you're in the mood for it.
4. Cook.
One of the fun ways to spend your free time is to cook! It is fun because you don't have to obsess over creating the perfect meal. Simply experiment and enjoy discovering new recipes. Don't forget about the presentation and make the meals that you're looking forward to trying!
5. Become an expert in what interests you.
What would you like to know more about? You can become an expert in anything that interests you. Learn more about something specific that you like, and it will be one more conversation topic that you could talk about for hours. If there's something that you're passionate about, read about it as much as possible and educate yourself in the field.
6. Make jewelry.
Making jewelry can be a fun hobby that gives you something creative to do with your free time and can lead to extra cash. Get beads, wire, and anything else that you'll need to make jewelry. There are a lot of instructions and ideas available online, so use them to get started. If it turns out that you're good at making jewelry you could later sell your work on Etsy.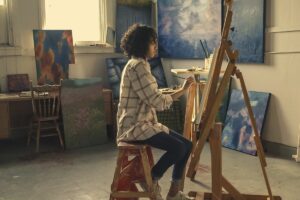 7. Learn to play an instrument.
If you know how to play an instrument, play it sometimes! If you don't know how- learn! Pick an instrument that you would like to play and get lessons. It will take time until you're as good at it as you'd like to be. However, once you have the chance to just pick up an instrument and play it for a while with your friends you'll be grateful that you've invested the time into learning it.
8. Learn a new language.
Which languages do you know other than English? It's always good to be fluent in several languages, so figure out which one you'd like to learn. Again, this might not be your idea of fun ways to spend your free time, but learning a new language can be fun, especially once you've become fluent in it.
9. Learn some card tricks.
Up for learning something more fun than a new language or playing an instrument? How about card tricks? Learn some card tricks and surprise your friends the next time you hang out by performing a new trick! Some are more complex, but there are plenty of easy ones that you could learn without a lot of effort.
10. Go fishing.
Get outside, find a place where you can go fishing, and be patient enough until you catch a fish. That's really all there is to it! Of course, there's more to professional fishing than just that, but if you're doing it as a hobby, you don't have to do anything more than finding a pond or a lake!
11. Take photos.
Photography is a fun hobby, and you could even earn from it if you sell your photos as stock images. In any case, it wouldn't hurt to have amazing pictures on your social media profiles, so learn more about photography and taking beautiful pictures!
12. Go dancing.
Of course, you could also exercise, which would be great for your health. However, there are ways to move your body that are more fun than exercising. Would you like to dance? Pick a dance style, take dancing lessons and learn your favorite dances.