You want your home office to make you feel comfortable and motivate you to work. This is the place where you'll spend a lot of your time, so it's important to plan how you're going to decorate it. Use these 10 smart ways to decorate your home office so that it's cozy and inspires productivity:
1. Consider the function before the aesthetics.
First things first, don't sacrifice the function for the aesthetics. Yes, it's important that your home office looks good, but it's more important that it feels good. So, always consider what you'll need to use this space in the most efficient way. For instance, if a chair looks great but doesn't feel comfy, you should choose a comfy one instead. Not a lot of people are going to see your chair, and you are going to sit in it every day, so prioritize function with anything you buy for your office space.
2. Get enough storage.
Most jobs require some sort of equipment, so one of the smart ways to decorate your home office is to get enough storage. Building custom cabinetry and shelves might be the best idea, but the important thing is that anything that you need full-time access to is close to you.
3. Remove the distractions.
When choosing the décor for your home office, make sure that it's not distracting. There are some beautiful objects that look amazing but would distract you from what you're supposed to be doing. Make sure to think about distractions when arranging the furniture as well. While having a couch and a TV in your home office sounds great, it surely isn't going to inspire productivity.
4. Pick a great desk and a comfortable chair.
Your desk is the focal point of your office, so consider how it looks as well as how it feels. The first things that you should consider are the size of the desk and how tall it is. Afterward, consider whether it would look good in your home office too. Make sure to also choose a comfortable chair that has great lumbar support. Don't focus so much on how the chair looks, focus on your comfort.
5. Decorate with art, books, and plants.
Books go great with home offices as if they were a natural pair. They're not distracting, and you need a place to put them anyway, so use the shelves in your home office to decorate them with beautiful books. Make sure to also use art that will make your home office look great, but that won't distract you from your job. Brighten up the space by adding plants as well.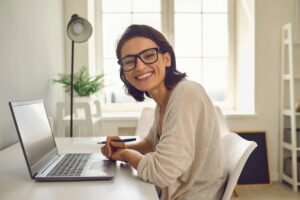 6. Consider the light and the view.
If possible, give yourself a great view. One of the simple ways to decorate your home office is to pay attention to what you'll be looking at while you're sitting at your desk. Consider the light as well because seeing things clearly is an important part of getting the job done. Since you can add different types of light, you can consider both the function and the aesthetics. While one light could serve its purpose, the other one could be just for show.
7. Leave room for coworkers and clients.
Don't forget to consider whether someone will be joining you in your home office. One of the smart ways to decorate your home office is to leave room for coworkers and clients that might need to do business with you. For the coworkers, you will need another desk, and for the clients, placing a few chairs in front of your desk should be enough.
8. Make sure that you have enough room to move around.
Before you start adding things to your home office make sure that you have enough room to move around. You don't want an office that feels cramped and crowded so make sure to keep in mind how much space you have before you fill it with furniture. It's important that you can get into and out of the office with ease.
9. Make sure that you're comfortable and cozy.
Your home office should feel comfortable and cozy, so add something to increase the coziness. For instance, pair a cozy rug with a comfortable chair and a big desk. Add a throw pillow somewhere, and don't forget to add a touch of personality which will also contribute to the coziness.
10. Add a touch of personality.
After you have done everything from this list of smart ways to decorate your home office, add the finishing touches. Personalize the space with objects that hold meaning to you. Pick something inspiring and motivating instead of distracting, and you're all set for work!